Unlike most electric torque tools the simple to use 'plug & play' VC-RAD design eliminates the need for control cabinets and the installation and set up of complicated software.
This new range of electric torque tools are available in both 110 and 240 volt motors, alleviating the problem of poor quality air supply, often associated with its pneumatic counterparts.
Features include:
Quick dial torque adjustment
Soft start trigger
Equal power in forward and reverse
Smooth and continuous flow of controlled torque
Portable Valve Operation Tool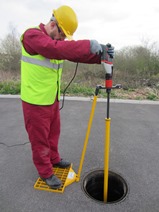 The VC-RAD 6 (110V Electrically Powered) Portable Valve Operation Tool with Telescopic Extension Bar is for use on below ground valves
This system is safer and easier to use than conventional tooling (e.g. T-Bar which requires a lot of manual effort and is a potential health & safety).
For further information, click HERE to visit our Bespoke Engineering section.