ATW C Series (Direct Fit) NEW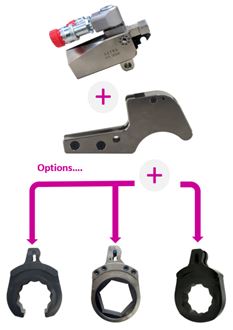 Add this to your Querybox
Range Overview
(3 Models)
Torque Range:  Please refer CS & CR data tables in product leaflet
Size Range: For nut sizes 27 - 145 mm

Product Leaflet (826.01KB)
Hydraulic tooling with interchangeable units for confined spaces. Consists of Torque Tool Body Section, Cartridge and a choice of the options listed below.
 
Options
ATW CO - Open Spanner
 
ATW CR - Ratchet Cassette
 
ATW CS - Closed Spanner

Lightweight alloy construction
Max. operating pressure: 10,000 psi (690 Bar)
See ATWH pages for information on the standard Hexagon Head Unit for use with the Torque Tool Body Section.